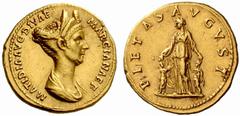 The Roman Empire

Matidia, daughter of Marciana

No.: 55

Estimate: CHF 24000

d=21 mm
Aureus 112, AV 7.17 g. MATIDIA AVG DIVAE – MARCIANAE F Draped bust r., hair elaborately dressed, above which crescent-shaped diadem. Rev. PIETAS AVGVST Matidia, as Pietas, standing facing, head to l., placing hands over Sabina and Matidia at either side. RIC Trajan 759. BMC Trajan 659. C 9. Vagi 1334. Calicó 1157 (this coin). Kent-Hirmer pl. 78, 274 (this obverse die). Biaggi 559 (this coin).

Extremely rare. A few minor marks, otherwise about extremely fine
Ex Glendining 1950, Platt Hall, 1344; Leu 22, 1979, 251 and Sotheby's December 1990, Hunt part III, 77 sales.
Matidia was the only niece of the emperor Trajan who, having no children of his own, displayed the greatest affection for her. He essentially treated her as a daughter, and she often accompanied him on his travels. In addition to her close connection to Trajan, Matidia shared a mutual fondness for the future emperor Hadrian, who she admired enough to permit him to marry her youngest daughter Sabina. When Matidia died in 119, her funeral oration was delivered by Hadrian himself, as her uncle Trajan had died two years earlier. The reverse of this coin depicts Matidia in the guise of the goddess Pietas affectionately placing her hands on the heads of two young children, both female, who doubtless represent her own two daughters Matidia the Younger and Sabina.