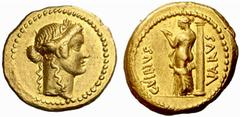 Roman Coins

The Roman Republic

No.: 26

Estimate: CHF 9000

d=21 mm
C. Vibius Varus. Aureus 42, AV 8.00 g. Laureate head of Apollo r. Rev. C·VIBIVS – VARVS Venus standing l., looking at herself in mirror held in l. hand; behind her, column. Bahrfeldt 36. Babelon Vibia 27. Sydenham 1137. Sear Imperators 190. Calicó 33a. Crawford 494/34.

Very rare. About extremely fine
Ex Leu sale 91, 2004, 488.