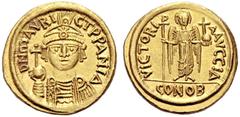 IMPORTANT COLLECTION OF BYZANTINE COINS
MAURICIUS TIBERIUS, 582-602
Mint of Carthage
Solidus 595/596. Indiction year ID. Obv. D N mAVRI –C T PP AN ID Helmeted, draped and cuirassed bust facing. Pendilia. Globe cruciger in r. hand. Rev. VICTORI – A AV AGG ID Angel standing facing, in r. hand Staurogramcross, in l. hand globe cruciger. CONOB in exergue. DOC 223. MIB 25b. S. 549. 4,50 g. Cabinet piece. Uncirculated. Ex Auction Harlan Berk 107 Chicago. March 1999. Lot 37. Reduced module but full weight. This marks the begin of the small size Carthaginian coinage.