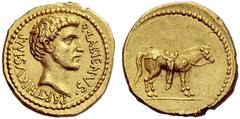 The Roman Republic

Quintus Labienus Parthicus. Aureus, mint moving with Labienus in Asia Minor 40, AR 8.15 g. Q·LABIENVS· – PARTHICVS·IMP Bare head of Labienus r. Rev. Parthian horse r., with bridle and saddle, to which bow case and quiver are attached. Babelon Atia 2. C 1. Bahrfeldt 69. And pl. VII,23 (these dies). Sydenham 1356. Sear Imperators 340. C. Hersh, SNR 59, 1980, p. 46,1 and C/21. Crawford 524/1. Berk 40 (these dies). Calicó 70.
Of the highest rarity, apparently only five specimens known. A magnificent portrait, well
struck on a full flan. Good extremely fine
The imperatorial age was a bounty for ambitious commanders, as anyone who could lead men in battle was a prized commodity. Loyalty was not always the most valued trait in this environment, for on many occasions defections were not only sensible, but invited, and rewarded. We tend to degrade traitors in the historical tradition, but we often are not privy to the multitude of factors these men faced, which ranged from subtle personality conflicts to unexpected political or military developments. In this charitable light, perhaps, we should judge Labienus, one of the vigorous commanders from this chaotic chapter in Roman history.
Originally Brutus and Cassius had sent Labienus to Parthia to seek support for their cause from king Orodes II, but he could not achieve his objective before his masters were defeated at Philippi in October, 42 B.C. Labienus was thus in a bind, being unable to return to the West. Rather than facing punishment at the hands of Antony and Octavian, Labienus switched strategies and encouraged Orodes II to invade Syria, with himself sharing the command with the king's son, Pacorus I.
The invasion probably began early in 40 B.C., when Antony was torn between that calamity and an equally urgent crisis in the West, where his brother Lucius had been defeated by Octavian in the Perusine War. Antony decided to sail westward to meet Octavian and, in the meantime, many cities and legions defected to Labienus, who presented himself as the last ember of the Republican cause. He and Pacorus initially defeated Antony's governor Lucius Decidius Saxa, and then they divided their forces: Labienus invaded Asia Minor and Pacorus drove into Palestine and Phoenicia. Early in 39 B.C. Antony responded by sending his lieutenant Ventidius to restore order, which he did with great efficiency. He captured and executed Labienus at the Cilician Gates that same year and soon afterward forced Pacorus and his army across the Euphrates.
This famous aureus bears a portrait of the unfortunate Labienus, identified by name, by the title imperator, and the cognomen Parthicus, which he adopted as an expression of his success in gaining Parthian help for his cause. The reverse bears no inscription, but shows a bridled horse fitted with a saddle and bow-case; there can be little doubt it represents the cavalry contingent of the invasion force, some 20,000 strong. In essence it honors the famous Parthian cavalry, and in that regard we may see this as a coin of two cultures, with the obverse devoted to Romans, and the reverse to Parthians.