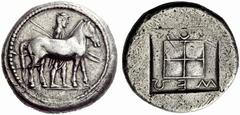 Part I
Greek coins
Kings of the Bisaltae, Mosses circa 480

Octodrachm circa 480, AR 29.32 g. Male figure, wearing causia and carrying two spears, standing r. behind horse r. Rev. ΜΟΣ − ΣΕΩ surrounding quadripartite square; all within incuse square.

Apparently unique and unpublished. An issue of tremendous importance and fascination
in the finest style of the period. Struck on a full flan with a light tone and some
minor area of porosity on reverse, otherwise extremely fine
Like much of the Archaic coinage from the Thraco-Macedonian region, this discovery piece of the ruler Mosses raises as many questions as it answers. Until now the coinage of this ruler seems to have been limited to drachms or octobols with a similar design, though somewhat less refined. This octadrachm significantly adds to the dimension of this monarch's coinage, which may originally have been more substantial than the scant surviving pieces suggest. Attributions for the coinage of Mosses have been quite varied, ranging from a dynast or a king of Macedon, of Thrace, of the Thraco-Macedonian tribe the Bisaltae, and of Paeonia. The dating has been proposed in an equally broad fashion, with estimates ranging from as early as c.500 to as late as c.450 B.C. – roughly the period of the Macedonian King Alexander I (498-454 B.C.). Though Mosses' drachms are often generic in appearance due to the style of engraving, the artistry on this octadrachm is exceptional, and should lead us to a date comfortably around 480 B.C. It also points to Macedon as a probable origin, whether Mosses was a king of the Bisaltae or predecessor/contemporary of Alexander I. It is possible, even likely, that Mosses was a chieftain who maintained his independence through acts of loyalty to Alexander I, but there seems little ground for identifying him as a king of Paeonia, as suggested by Raymond in her 1953 study Macedonian Regal Coinage to 413 B.C. This is made even more clear with this octadrachm, the absence of which Raymond considered evidence against Mosses being a king of the Bisaltae. Both this attractive type of Mosses and octadrachms produced in the name of the Bisaltae must have been inspired by the contemporary octadrachms of Alexander I. The type likely also was the basis for coinages of Potidaea, the Getae, Sparadocus and Perdiccas II, all of which present a variant to the Alexander I type, yet keep the same general composition.