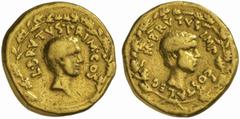 The Roman Republic

The Civil Wars, 49 - 31 BC

No.: 6

Schätzpreis - Estimate CHF 25000.-

Q. Iunio M. Caepio Brutus with L. Costa. Aureus, mint moving with Brutus in late Summer - early Autumn 42 BC, 8.00 g. L·BRVTVS PRIM·COS Bare head of L. Iunius Brutus r.; all within oak wreath. Rev. M·BRVTVS IMP - COSTA LEG Bare head of M. Junius Brutus r.; all within oak wreath. Bahrfeldt 64.6 (this coin). Cr. 506/1. Syd. 1295. C 16 (this coin). Vagi 93. Calicó 60.

Exceedingly rare, the only specimen in private hands of eight known.

A prestigious coin of great historical interest. Fine
Ex M&M 77, 1992, 141 and Triton III, 1999, 844 sales. From the duplicates of the Bibliothèque Nationale. A classic and important coinage, this aureus pleads the case for Brutus' nobility and ancestry, and by extension, the righteousness of his 'Republican' cause. The obverse features the bearded head of Brutus' most famous ancestor, L. Junius Brutus. The elder Brutus was the true hero of the early Republic, as in 509 B.C. he expelled Tarquinius Superbus, the last king of Rome. Thereafter he served as the first Consul of Rome and of the fledgling Republic - hence his inscription primus consul. The reverse depicts an almost Baroque head of Brutus himself, lightly bearded, and identified as imperator. Coins bearing the portrait of Brutus are coveted, for there are only four issues with this feature, all of them rare. One is a denarius (Cr. 515/2) that is not inscribed with his name, but which we must conclude is him based upon comparison with the known inscribed portraits, and the historical context of the issue. On this aureus both portraits are enclosed in oak wreaths, the corona civica, which was awarded to those who saved the lives of other citizens or who came to the aid of the Republic itself in times of distress.