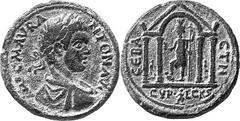 The Early Roman Empire

Caracalla

Estimate: CHF 950.00

Tetrassarion (AE, 17.80 g 12), Sebaste-Samaria, year 226 = 201. IMP C M AVR ANTON AVG Laureate and draped bust of Caracalla to right. Rev. / L.S Within the central inter-columniation of a tetrastyle temple, statue of Tyche standing left, holding long scepter and small bust, her right foot on a sphinx; to left and right, between the side columns, a small statue of a standing figure; below, dividing the exergual inscription, a small figure of Artemis (?) walking to left. BMC –. Meshorer – (cf. 116, from the same obv. die). SNG ANS – (cf. 1078, an issue of Commodus with the same rev. type). Very rare. Attractive dark green patina. Good very fine.