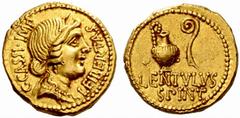 Roman Coins

The Roman Republic

No.: 28

Estimate: CHF 22000

d=22 mm
C. Cassius Longinus with Lentulus Spinther. Aureus, mint moving with Cassius (probably Smyrna) 43-42, AV 8.21 g. C·CASSI·IMP – LEIBERTAS Diademed bust of Vesta r., wearing necklace. Rev. LENTVLVS / SPINT Sacrificial vase and lituus. Bahrfeldt 59. Babelon Cassia 15. Sydenham 1306. Sear Imperators 220. C Brutus 3. Kent-Hirmer pl. 27, 97. Calicó 65. Crawford 500/2.

Rare. Extremely fine
Ex Hess-Leu 1, 1954, 215 and NAC 24, 2002, European Nobleman, 4 sales.

Lentulus Spinther is perhaps the son of Spinther, cos 57, who became legendary for his lavish expenditure while aedile and praetor and whose taste, as evidenced by the bust of Libertas, was influenced by rich post-Sullan late Hellenistic style that characterises the period of Pompeys triumphs. The spelling of Leibertas is self-consciously archaic, evoking ancient virtues in a style redolent of denarii issued earlier under Brutus. The reverse type symbolises the augurate of Spinther (or, of course, Cassius), authenticating his activities as moneyer.